Episode #017
Aired Nov 1, 2013
Being the Boss
A true leader, Greg Hoy can talk about management, marketing, leadership, design, and more. Also, Greg will share about Owner Camp and Digital Project Management Summit. And finally, what did it really feel like to have his employees give him a review? Listen in live on Friday, November 1, 2013 at 12:30pm EST to hear Dan and Jason interview Greg about these and other topics. Have a question for Greg? Leave it in the comments below!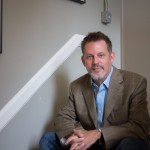 About Greg Hoy
CEO of Happy Cog, Greg Hoy began his career in sales and marketing in 1992 before turning his focus to interactive design in 1994. He worked as a web designer for 10 years, and has managed teams since 1997. His career spans the publishing, media, insurance, and tech consulting industries. An entrepreneur at his core, he has launched several successful companies.
Greg and industry pioneer Jeffrey Zeldman partnered in 2006 to expand Happy Cog's footprint to Philadelphia, and later further expanded the company's reach and capabilities by merging with boutique design studio Airbag Industries in 2009.
Greg received his BA in Management from Gettysburg College, where he now is an active alumni and serves on the college's Marketing and Communications committee.
Outside of work, Greg spends his time with his wife and two sons. He's a "foodie" and enjoys cooking, eating barbecue, and sampling craft beers, sometimes more than one. He's an avid baseball fan and a supporter of his hometown Philadelphia Phillies. He also enjoys seeing the country with his family and his Airstream travel trailer. He's a perennial fan of music, having managed his college radio station and played in multiple bands over the years. He still enjoys playing the guitar when he can find the time.
*bio from Happy Cog website
Show notes
This episode, Jason interviews Greg Hoy, CEO of Happy Cog. Greg shares how he learned web design, the value of learning from other professionals, why he started Happy Cog, and what it's like to run the show and answer to no one.
This episode is sponsored by:

Harvest is a time tracking and invoicing tool for creative professionals and teams. Use code "BUSINESSOLOGY" at checkout for 50% off your first month!
Support the Businessology Show
The Businessology Show is a labor of love for Jason. If you've benefitted from one or more episodes of the show, please consider supporting us.